Hong Kong: What went wrong with its Covid plan?
The scene was grim at Caritas Medical Centre last week.
Just outside the hospital's emergency room, dozens of hospital beds had been placed in an alley under makeshift tents. The air was punctuated by the moans of patients – most of whom were elderly – and cries of children. All were suspected or confirmed Covid cases waiting to be admitted.
"It felt like we were in a wartime refugee camp. It was depressing. We were tearful, but there was no more space in the ward. They could only wait and there was nothing we could do," one emergency room nurse told the BBC.
Days later the patients were moved indoors, after Chief Executive Carrie Lam said the situation was "unacceptable". But Hong Kong's hospitals still remain full as the city battles its worst wave of infections.
Hong Kong was a poster child of pandemic control success in the past two years. By the end of 2021, the city of 7.5 million had recorded only 12,650 cases and fewer than 220 deaths.
The success justified the government's adherence to the mainland's "dynamic zero Covid" strategy, which involves early testing, detailed contact tracing, strict quarantine rules, and tight travel restrictions.
But the city has been brought to its knees with the arrival of the highly transmissible Omicron variant. The number of reported cases has soared to more than 66,000 in just a couple of months.
The first local Omicron cases linked to two Cathay Pacific flight attendants who breached Covid rules were found in late December. Then a larger cluster emerged in a quarantine hotel.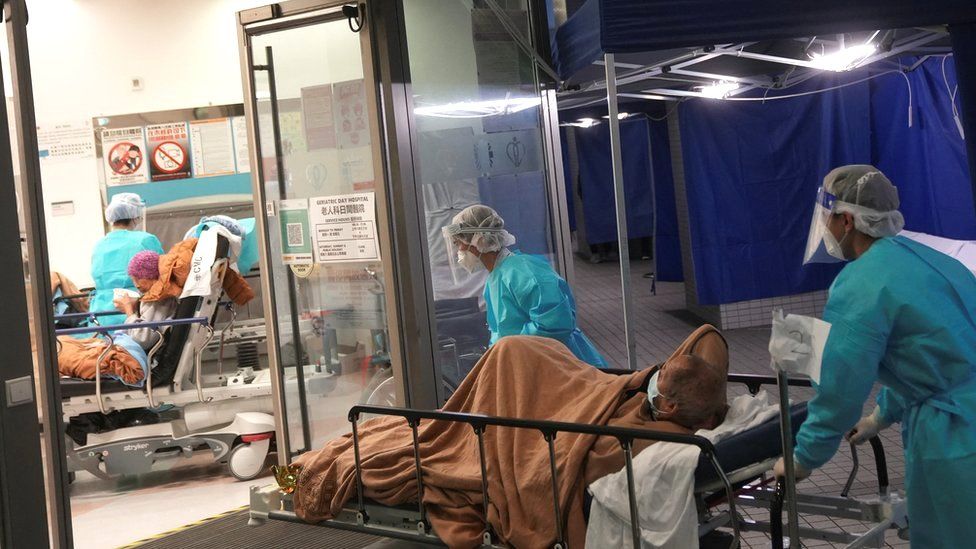 According to projections by the University of Hong Kong (HKU), the city will see a peak of more than 180,000 new cases daily by mid or late March, if current social distancing measures remain in place. By mid-May, the total death toll is forecast to have topped 3,200.
"Because of our success, paradoxically, people had been lulled into a sense of false security," said Gabriel Leung, HKU's dean of medicine.
Continue Read : https://www.bbc.com/news/world-asia-china-60474342